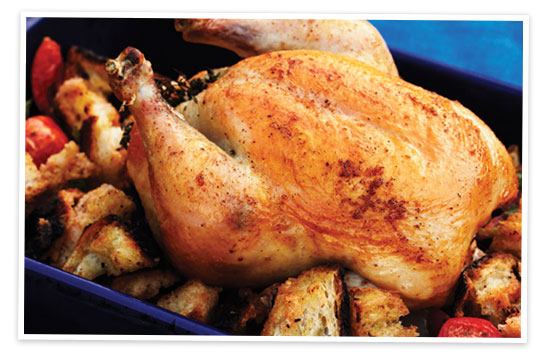 Sunday Dinner.  You want to keep it simple, but give the impression that you've put in a lot of effort.  There is nothing easier than roast chicken.  Roast some potatoes, make a green salad, open some white wine, and you have a fantastic meal!
We've pulled together three of our favorite roast chicken recipes, all similar but each with a different twist.  Happy supper!
We love Ina Garten, especially how she manages to keep everything simple yet amazingly delicious.  This recipe calls for thyme, lemon & garlic, which brings out great flavors.
As usual, Gwyneth is suggesting a clean, healthy recipe, this time for roast chicken.  This recipe is Seamus Mullen's
, and includes shallots and tomatoes for a different approach.
The Pioneer Woman presents a very simply, basic recipe that can also be adjusted to your taste.  Butter, lemon, rosemary, salt/pepper.  Voila.
Image Credit:  Goop, Seamus Mullen