We are huge fans of Edith Head, costume designer extraordinaire.  She won 8 Oscars.  She was nominated 35 times.  Her vision was incredible.  Here is a list of our favorite movies that she designed costumes for, (it's clear she and Audrey had a special relationship).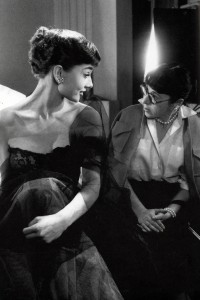 Audrey Hepburn with Edith Head at Paramount Studios.
Photograph by Bob Willoughby, 1953.
Our List.  All worth watching – tons of eye candy.
1953 – Gregory Peck, Audrey Hepburn
A bored and sheltered princess escapes her guardians and falls in love with an American newsman in Rome.
1954, Humphrey Bogart, Audrey Hepburn
A playboy becomes interested in the daughter of his family's chauffeur. But it's his more serious brother who would be the better man for her.
1950, Bette Davis, Anne Baxter
An ingenue insinuates herself in to the company of an established but aging stage actress and her circle of theater friends.
1957, Audrey Hepburn, Fred Astaire
An impromptu fashion shoot at a book store brings about a new fashion model discovery in the shop clerk.
1954, James Stewart, Grace Kelly
A wheelchair bound photographer spies on his neighbours from his apartment window and becomes convinced one of them has committed murder.
1955, Cary Grant, Grace Kelly
When a reformed jewel thief is suspected of returning to his former occupation, he must ferret out the real thief in order to prove his innocence.
Image Credits:  Amazon
Movie Descriptions:  IMDB