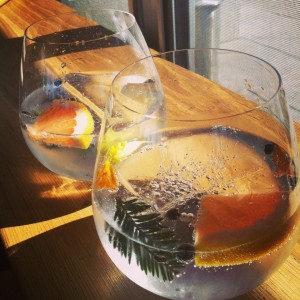 We love a good cocktail.  Especially one that is happy and unique and brings some fun for Springtime.  We also like to take a classic recipe, and spice it up a bit.  Take a Gin & Tonic for instance.  The classic recipe calls for gin, tonic water and lime.  Still a great drink, but a little stale and "done".
We like to add a bit of a twist to make the classic and bit more refreshed.  Here are a few options to try.
–          Try adding cucumber instead of lime.
–          Add mint, and juniper berries in place of lime.
–          Add a slide of pink grapefruit for a new twist.
–          Add a slice or orange and a splash of Orangina.
All will result in a refreshing and new way to enjoy your Gin & Tonic.  Salut!