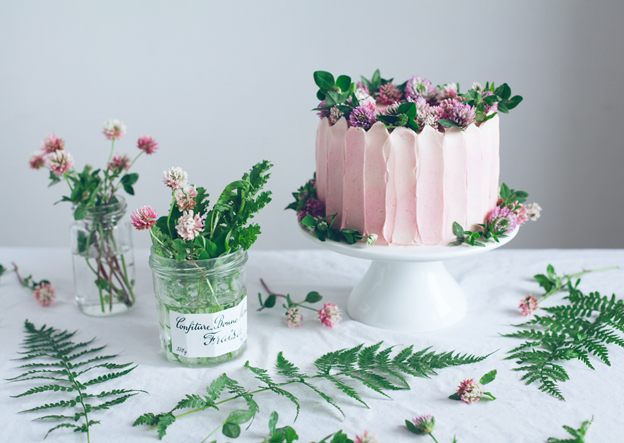 We discovered the food and photography blog "Call Me Cupcake" recently, and it's amazing!  Gorgeous photographs highlight the amazing cakes, tarts and desserts.  And she has a book coming out soon!  We cannot wait to try out this vanilla bean cake.  We'll impress everyone.  Enjoy. 
Vanilla bean cake
Makes one 6 inch cake / Serves 6-8
Recipes from my book Lomelinos tårtor
Ingredients
Cake
50 g (1/2 stick) butter
3 large eggs
1 cup (225 g) granulated sugar
1/2 tsp pure vanilla powder (or seeds from 1 vanilla bean)
1/3 cup + 1 1/2 tbsp milk
1 1/4 cups (180 g) all purpose flour
1 1/2 tsp baking powder
pinch of salt
Vanilla buttercream frosting
300 g butter, softened
1 1/2 – 2 cups powdered sugar
1/4 tsp pure vanilla powder (or seeds from 1/2 vanilla bean) or 1 tsp vanilla extract
1/4 cup heavy whipping cream
pink food coloring, if desired
Directions
Cake
1. Heat oven to 175°C (350F).
2. Butter and flour two 6 inch (15 cm) cake pans.
3. Melt the butter and let it cool.
4. Whip eggs, sugar and vanilla until very light and fluffy, about 5-7 minutes. Heat the milk until lukewarm and add to the egg mixture. Whisk in the melted butter.
5. Mix together flour, baking powder and salt in a bowl. Add dry mixture to the batter and stir until smooth.
6. Divide the batter between the two prepared pans.
7. Bake for 28-30 minutes, then let the cakes cool for 10 minutes in their pans before inverting them onto a cooling rack. Let cakes cool completely.
Frosting
1. Beat butter until smooth.
2. Add powdered sugar and beat until very fluffy and pale, about 3-4 minutes, scraping down the sides of the bowl every now and then.
3. Add vanilla and cream and whip for 30-60 seconds or until cream is fully incorporated.
4. If the frosting is full of air bubbles (because this frosting is fluffy!), stir with a spatula until smooth.
Assembly
1. Divide both cakes in half so you have four layers.
2. Put the first layer on a cake stand or serving platter. Spread about 1/4 cup of frosting on the first layer.
3. Repeat step 2 until you've used up all layers.
4. Spread a very thin layer of frosting all over the cake. Put cake in the fridge for 15 minutes.
5. Divide remaining frosting between two bowls and color into two different shades of pink if desired.
6. Spread a thick layer (alternating between the two colors of frosting) all over the cake, then use a large offset spatula two make patterns.
7. Store cake in the fridge (because of the cream) and bring to room temperature before eating.
8. Decorate with edible clover flowers.
Recipe and Photo:  Call me Cupcake