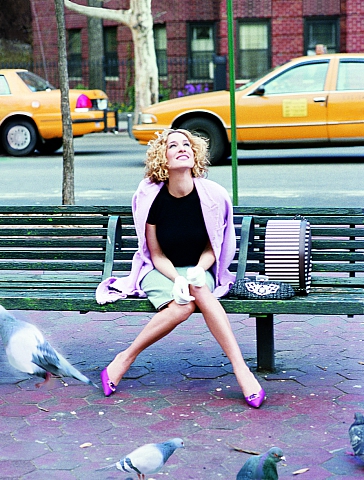 We all fell in love with Sarah Jessica Parker over the six years as Carrie Bradshaw in Sex and the City.  Her style, her sense of humor, her wit.  But as we know, this was a fictional character.  It's so refreshing to see that in real life, she's equally as fabulous as Carrie, in fact probably much more pulled together and less neurotic.
For a bit of home-envy, check out this video as she let us into her gorgeous brownstone in a  Vogue magazine "73 questions" interview.  We get a peek at her living room and sitting room all while learning some fun things about her. Incredibly down-to-earth, with a home we can all be jealous of.
Then she grabs coffee and drives around New York with Jerry Seinfeld in her brand new 70's station wagon for an episode of "Comedians in Cars Getting Coffee".  She shows us her quirky side, and a bit of fun and personal tid-bits that show off her great personality.
She'll always be our beloved Carrie, but we're so happy to see that she's actually much cooler in real life.  She's a successful designer, actress, wife, mother of three, and all around  style maven.  And she has a fantastic sense of humor to boot.  We. Love. Her.
Image Credit: http://wearmelanina.blogspot.com/2012/01/carrie-bradshaw.html